Christi's Cozumel Restaurant List
My apologies – the PDF is NOT updated but please check back soon!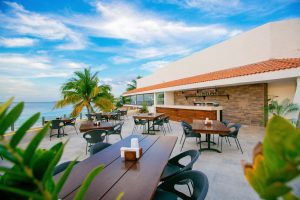 Buccanos at Night is by far my favorite dining experience on the island.  I say dining experience because it's special in so many ways – from the beautiful seaside view, to the romantic candles & torch lights, to the wonderful attentive staff.  They have recently added and renovated to include an upstairs terrace as well as a large indoor dining room upstairs – so no more fighting bad weather or mosquitoes!  It is an intimate atmosphere with amazing food.  Ines, the owner and Chef is passionate about what she does and it comes through in her creations each week!  She uses only high quality fresh ingredients with a creative fusion of flavors and textures that you would never imagine together – but they work every time!  I cannot list a favorite because I've never had a bad thing there – and her specials are different from week to week.  There is a regular menu, but I've never even opened it – I always order whatever she has created that week – there are always a few specials to choose from and are based on the freshest ingredients she finds for the week – a true market to table concept.  Make sure you plan for this, you'll want to try appetizers, an entree AND dessert!   Reservations HIGHLY recommended, they do fill up several weeks in advance.  But the good news is you now have more nights to chose from as they have extended dinner into the week!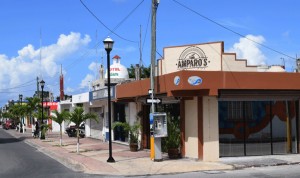 This is officially my favorite breakfast on the island now!    Excellent service, a hand's on attentive owner, fresh ingredients, fresh roasted coffee, and a large variety of options from full American breakfast, to traditional Mexican breakfast as well as healthy and gluten free options.  For those who don't like the heat, it is also air conditioned.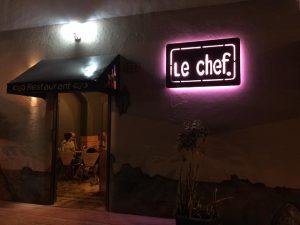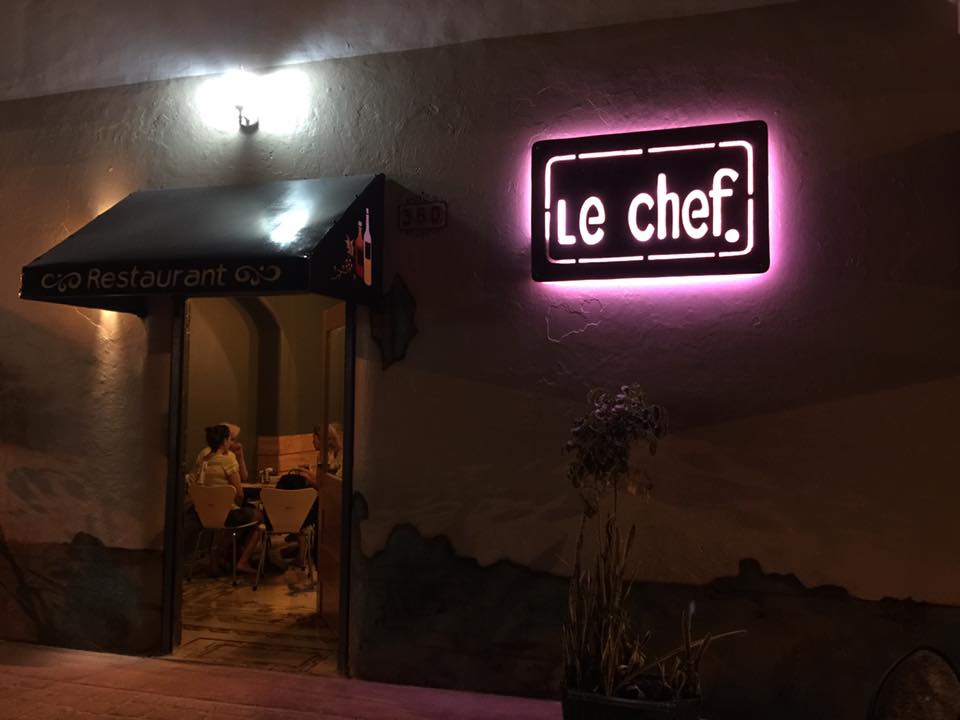 Le Chef Fans – they have MOVED right next door so don't be alarmed if you don't see the doors open on the corner.  Just walk a few more steps and you will see the door.  There is now indoor and ample patio seating out back. They have the same great menu as always.
Le Chef is another everyday favorite of mine for both lunch and dinner. Le Chef is home of the famous Lobster Bacon sandwich that everyone must try at least once – you won't regret it! Other favorites of mine are the wonderful Tuna Tartare served with warm toasted pita bread, the best tortilla soup on the planet, and wonderful pitas filled with your choice of vegetables, turkey, roast beef, chicken and more. They also serve fresh seafood specials, pasta, individual sized pizzas, and wonderful salads.
Ready for a NEW favorite!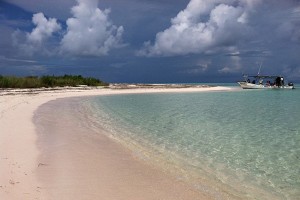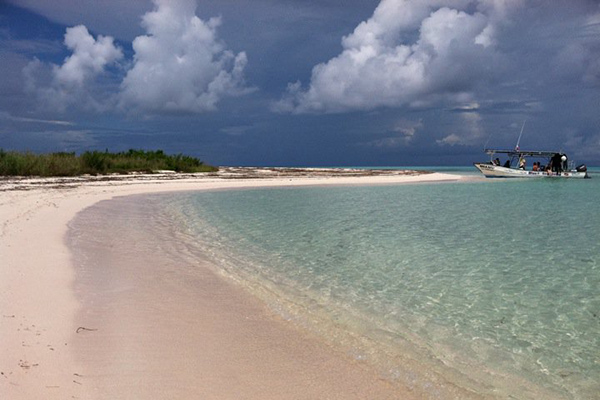 This space is waiting to be filled by one of our new favorites from our guests!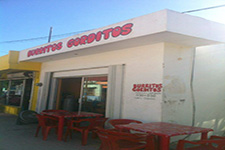 Craving a super stuffed burrito full of deliciousness? Burritos Gorditos is the ticket! Large homemade tortillas stuffed with your choice of chicken, beef, pork, rice, beans, cheese, veggies, and more! Beware of the creamy habanero sauce, delicious but "muy picante." I am also a big fan of the breakfast burrito stuffed with your choice of eggs, sausage chorizo, bacon, rice, beans. These burritos are easily two meals for most of us! But save room for the best one – the dessert burrito – flour tortilla filled with apples and cinnamon and deep fried – sinful but the calories are at least worth sharing! Add this one to your "don't miss" list!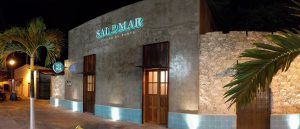 One of my very favorite new places for exceptional food, service, atmosphere and pricing.  There are too many great dishes to list, but the Tuna Tartare is some of the best on the planet and the Coco Alaska desert is light, refreshing and will please any palate.  I'm also a big fan of the Baked Tomato salad.  The Chef of this refurbished old Cozumel home is from Spain and the owner contracted an architect who did an amazing job of preserving the original structure and charm while adding a modern chic feel.  There is indoor and outdoor seating – all covered so no worries about the rain.  Definitely not to be missed!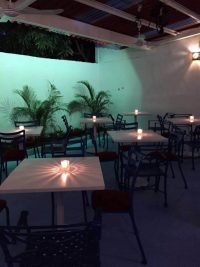 Finally!  Some real Greek food on the island.  Even if you don't think you like Greek food, this is a well balanced Mediterranean menu with everything from traditional authentic Greek dishes to fresh seafood.  The Chef actually comes from Greece and the owners Pearl and Juan are native New Yorkers who have been frequent visitors of the island for a couple of decades.  They retired and realized their dream and filling a much needed culinary gap in the Cozumel dining scene.  They are lovely people and will do anything to make your experience the best it can be!  Service, food, atmosphere and pricing are all exceptional!  Absolutely in my top FIVE!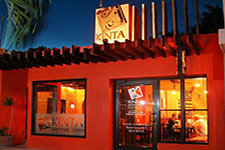 Chef Kris Wallenta's first masterpiece which was the first of its kind opened in 2007 and revolutionized Cozumel dining. Kinta remains as one of my Top 5 favorites! Like its sister restaurant Kinta, there is not a bad choice on the menu which ranges from fresh Tuna taco appetizers to salads, fresh catch of the day, steak and more traditional Mexican dishes with a modern flare. A few of my personal favorites are the Porky Pasilla, Catch of the day and the delicious Chile Relleno with vegetable ragout!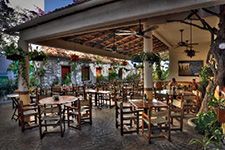 Guido's is a Cozumel landmark and mainstay of island eateries and it is one of the very best! From wood fired pizzas and lasagna to fresh beef carpaccio and fantastic seafood specials – this is the real deal high quality Italian dining! Not only is the food and service first class, the garden atmosphere creates a charming diving experience day or night. I am particularly fond of ANY seafood special Yvonne has on the menu as well as the fresh carpaccios and of course the Crème Brule for dessert! Definitely not one to miss!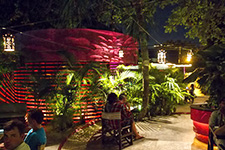 Kondesa is the younger sister restaurant to Kinta and has become my other favorite dinner spot. Aside from the beautiful and hip nouveu chic garden setting the food and service is outstanding. Owner and Chef Kris has created another masterpiece with Kondesa by blending a traditional Mexican base with Asian and Mediterranean influences. In addition to the fantastic daily specials and catch of the day, try the Kondesa Kakes (made with Lionfish), In Guak We trust (3 styles of guacamole), Kalifornia Salad, Pollo Poblano or the Kondesa Enchiladas – or anything else on the menu that gets your mouth watering – there is not a bad choice on this menu!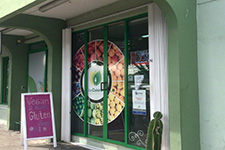 If you're looking for superfoods, vegan options, gluten free options and just some good fresh clean eating – this is the place! Owned by one of the island's most loved Nutritionists and Professional Yogi, Gabi creates balanced and nutritious menus each week. Daily specials include a vegan menu as well as a standard menu with a soup or salad and a hot entree. Choose from the daily menu or a variety of salads, wraps, sandwiches, smoothies and juices. My favorites aside from the daily specials are the Balance Salad, the Gourmet Wrap, or the Veggie Sandwich. Also check out the "fridge" for ready to go muesli, chia pudding, and other superfood snacks and desserts! Finally, check-out the Super Foods market at La Cuisine!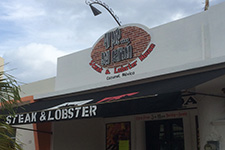 Yes, there are two of these on the island – same owner – but I do prefer this location. Sidewalk and indoor seating. Chargrilled steaks, chicken, fish and hamburgers! I list this restaurant as one of the best hamburgers I've ever had anywhere! Gourmet burgers with real meat at very reasonable prices!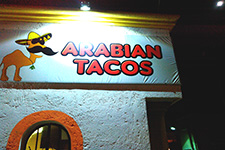 If you like Middle Eastern and Greek food – this is the only option I know of on the island – and it is an excellent one! All items are made fresh from scratch using the most natural ingredients and are 100% preservative free. Try the fresh made Hummus, Greek yogurt, Kebabs, Shawarma, Babaganoush, Falafel, Baklava and of course Arabian tacos with pita bread. This Middle Eastern, Greek, Mexican fusion is one of my new favorites!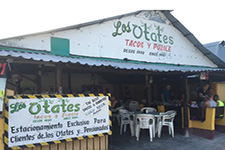 A great local spot for tacos, tortas, frijoles churros and pozole for lunch, dinner or late night. The special charro beans are the very best on the island. Other favorites are the tacos Arracherra and tacos el Pastor or Gringas!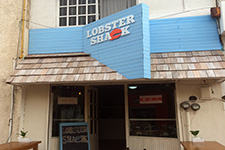 Cozumel's newest addition as of this writing! What a treat to have a place for lobster and shrimp rolls on the island with some of the best coleslaw I've ever had! But truly, the lobster burrito is my actual favorite! Stuffed with grilled lobster, rice, avocado and other ingredients this is a fabulous lunch! Go early – they sell only fresh ingredients and are so popular they often run out of lobster before the end of the day!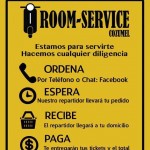 The best invention since sliced bread! What an invaluable service we have now on the island! Room Service will deliver from any restaurant or multiple restaurants in one delivery! Send them your grocery list or have them pick up your prescriptions from the pharmacy. A truly unique and fabulous service! Offering FREE delivery with partner restaurants and only a small delivery fee for other services. Contact them on Facebook and place your delivery order!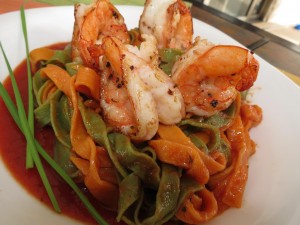 This is a fabulous change of pace and allows you to have a gourmet cooked meal delivered hot to your door at the exact time you want it.  The menu changes every week and offerings include everything from high quality grilled steaks, to seafood, pastas, and traditional Mexican dishes.  They usually have 2 or 3 choices per week and desert is also included.  The menu for each Sunday is typically posted on their Facebook page on Friday afternoons. Orders can be placed by sending them a Facebook message with you name, order, delivery address and time you would like your dinner delivered.  Prices are extremely reasonable and the food is really delicious and very fairy priced.  They speak both English and Spanish.  Try it – you won't regret it!