Christi's Island Favorites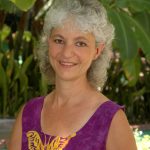 A good massage is always a treat! If you've never had an Ashiatsu style massage, it's even a bigger treat. Sally specializes in Ashiatsu and Reiki. By appointment only! Please schedule your appointment no earlier than 4pm on a dive day.  Sally is Christi's favorite massage therapist on the island for a relaxing massage or energy work!
Dreaming of Yoga by the Sea?  check out Tammy Cervantes Yoga offerings which include daily practice by the sea.  She also has other class locations including Vinyasa, Restorative and private yoga classes.   Tammy is also a fabulous massage therapist and is Christi's very favorite for deep tissue or sports massage.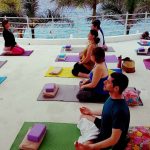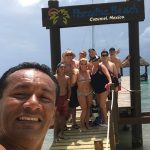 Adrian is a Cozumel native, born and raised here.  If anyone knows the island, it's Adrian!  Not only is his knowledge of the island and local culture vast, he is FUN and just an all around GREAT person!  He gives back so much to the island with his charitable acts.   Adrian offers private fishing, snorkeling, ruins, island tours, and tours to the North end.  These are some great non-diving day options for the whole family.  Contact Christi at Blue XT~Sea Diving to book one of Adrian's tours.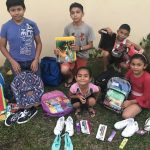 This is a complete grass-roots effort started by Adrian (above).  School, even public schools are not free and costly for single moms and underprivileged families.  Cash donations are not accepted, but backpacks, school supplies and shoes are GRACIOUSLY accepted to help these kids have what they need for school.  Blue XT~sea will accept your donations an will make sure they get to Adrian to distribute where they are most needed.
CMC Costamed is a private medical clinic and full service hospital with the most modern and state of the art facilities and diagnostic equipment in the state.  CMC has 24/7 Urgent care facilities as well as a full range of specialists including Cardiology, Orthopedics, Neurology, Gastrointestinal, Pediatrics, Psycholgy, Trauma, Dental, Dermatology, and yes of COURSE Hyperbaric medicine with a state of the art multi-person Hyperbaric Chamber.  Dr. Dario Gomez is the only official DAN physician on the island and runs the hyperbaric facility here.  CMC is a private hospital with 20+/- newly built private rooms and literally THE BEST medical team of Dr's and Nurses I've ever experienced.  I've been inpatient at this hospital 4 times in my 17 years on the island including 3 major surgeries and wouldn't dream of going anywhere else for my personal medical care.  They accept DAN as well as most Major Medical policies.  Still, prices are a fraction of the cost of medical care in the USA or Canada.