Founder, owner and Texas native Christi Courtney started Blue XT~Sea Diving out of her island home, tooling around on a moped with a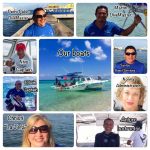 "Keep Austin Weird" sticker on the gas tank. With very little advertising and much goodwill, we grew to become one of Cozumel's best-loved dive operations. It wasn't just the famous surface-interval muffins and other snacks, it was the personal service that has set us apart from the very beginning.  In October 2005, we purchased our second dive boat, Bandida II.  Many of you know the story of how Wilma destroyed her before getting her launched – but we persisted and launched her in April 2006 and she has become our pride and joy.  Bandida was re-powered with twin Yamaha 115 Four-Stroke engines and completely renovated in October 2014.  After a five year hiatus from the water, Shamu (our first boat) was completely refurbished and re-powered with a brand new Yamaha 4 stroke 200HP – she celebrated her maiden voyage in March 2017, and she flies!
Other celebrations include the re-launch of our first boat SHAMU in March 2017 and our 15 year Anniversary in April of 2017!  Thanks to all of our old and new diving friends!  We look forward to another 15 years as our "tribe" grows!
Wondering about the name? We wanted to find a name that emulates how we feel when we are diving.  After several months, hours of debate, and many "focus group" sessions, we decided on Blue XT~Sea Diving. The euphoric connotations give a true illustration of the feelings and emotions that diving brings us. Every time we dive into the crystal blue waters of Cozumel, it is a new experience, a new adventure, but always wonderful and always exhilarating. With this said, our goal is to share this love of diving with you and to provide you with a safe and exceptional experience with personal attention and packages tailored to your needs. With us, your diving will be an experience to remember, not just another dive trip!
Blue XT~Sea Diving services extends beyond the boat. We can also help you with your accommodations, rental cars and we can guide you in the right direction for dining and other non-diving activities.
If there is any information we haven't covered, please do not hesitate to contact Christi at info@bluextseadiving.com.